Single room with use of bath and kitchen from 700-750 euros per month;
Studio apartment from 1000 euros.
The fee is to be paid directly to the owner within 3 days of arriving in Milan.
Upon request of the student our Italian Language School provides also a list of:
Rooms in B&B euro per month;
Pensions;
Hotels;
Residences.
Lodging service is only available for officially enrolled students.
The fee is to be paid directly to the owner within 3 days of arriving in Milan.
The reserved lodging price must be paid within 3 days of the arrival directly to the owner.
We recommend to book the accommodations in advance.
If the student decides to move to a different lodging, he/she must inform the landlord at least 2 weeks in advance and must pay anyway.
In case of damages done to the lodgings, the landlord is entitled to direct indemnification by the student
Students must behave so that no disturbance is caused to neighbours and flat/roommates, in all the lodgings reserved by our school
The reservation of the lodging is strictly personal and the presence of any guest must be agreed directly with the landlord.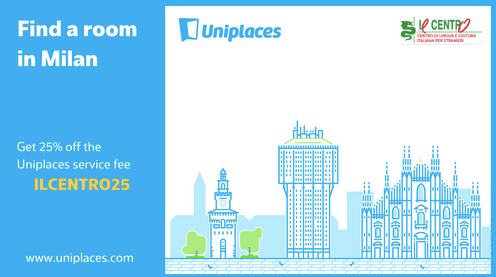 UNIPLACES
Uniplaces is the fastest-growing online platform helping students around the world find a home in Europe, and has already booked more than 7 million nights in over 30 European cities.
The online booking process makes it possible for students to safely rent from local landlords. Thanks to quality photos and detailed descriptions, Uniplaces makes sure students have all the information they need to make a safe and informed decision without the need of flying over weeks in advance and helping you with the visa procedure (with a Pre-Paid Accommodation Certificate).
Uniplaces is creating the ideal rental experience for everyone, and has its sights firmly set on becoming the number one mid- to long-term accommodation platform in the world.